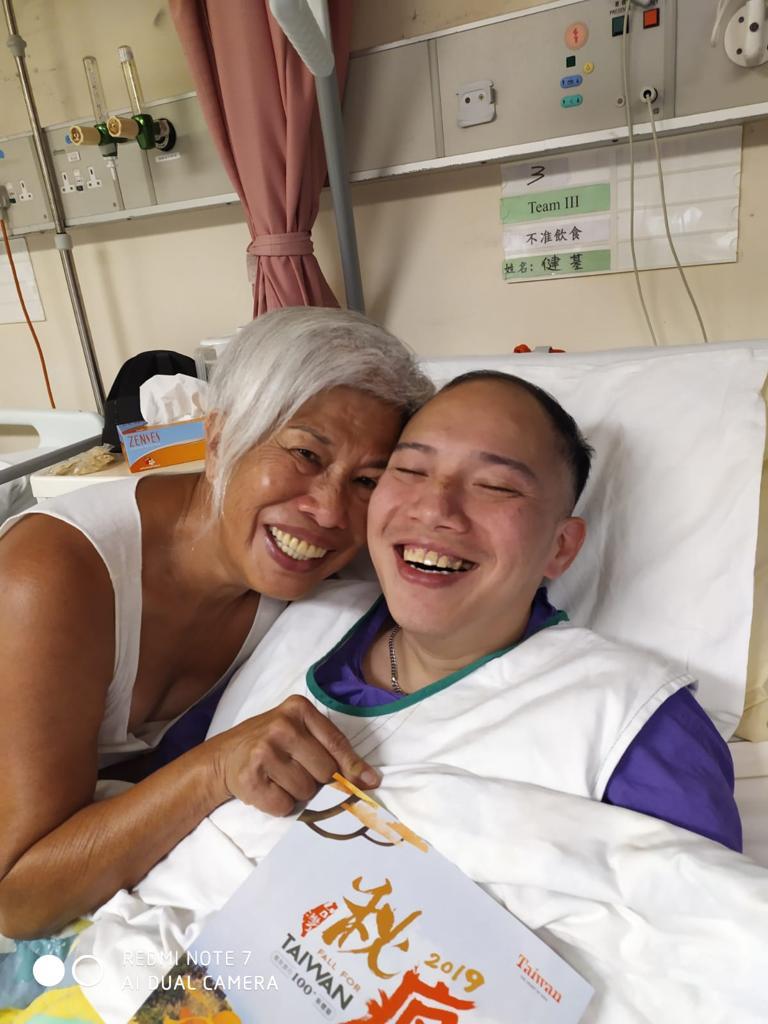 Keimi 
Reference number : #51
When his son Jianji was 15 months old, it was confirmed that he suffered from epilepsy and moderate
I hope to live happily with my son, so that the relationship between each other can continue
When his son Jianji was 15 months old, it was confirmed that he suffered from cerebral epilepsy and moderate intellectual disability.

Every day Kiki will have multiple types of cramps unexpectedly and without warning. Sometimes seeing him standing on the ground space, he would volley somersault, or sit on the ground playing with toys, and his head suddenly slammed into the ground, causing his head to be bled.
The speed is too fast to watch out for protection.

The number of cramps per day ranges from dozens or even hundreds of times.
Once when he picked up the cup to drink, he suddenly cramped and inserted the cup into his face, requiring 21 stitches to be sewn on the face. Makes me guilty for a long time.
Kiki is also hyperactive, walking around and beating constantly. In order to defend against his sudden injury, he has to look after him and protect him every minute and every second. Even if I want to go to the toilet, I have to take him by my side.
During that period of time, I had to endure days of panic and panic every day.

There are also regular follow-up visits to the hospital every week. There are various physical therapy, occupational therapy, speech therapy, hydrotherapy, etc. within a week...
I'm still very happy to be too busy for him! He was also taken everywhere to seek medical treatment in other places, seeking his own "hope."
In addition, there are three other children in the family who have to take care of daily living and eating. I was exhausted and my heart was crushed.
Looking back at that time, I seemed to have supernatural energy and could handle everything with ease, but my mood was like falling into a deep valley in hell, very gloomy, and suffering from the little-known "depression" at the time, I needed psychological counseling.
From the very beginning, I learned that my son has epilepsy and the news that affects IQ, shocked, frustrated, unwilling, trying to find hope everywhere, not letting go of any teaching opportunities, hope that the arrangement can reverse the fate... etc...
Turning to this year, my son has grown up. Although there are still irregular cramps every day, I have planned to live with him and cramps. Now the condition is under control, but his mood fluctuates easily and he still has to face many behavioral problems.
Due to his limited intelligence, he could not understand the external environment to be regulated, and he only took care of his own preferences and willingness to implement things at the time. For example, he did not want to enter the lobby door when he returned home, and finally had to wait outside the lobby door For three hours, or if you return to the home outside the door, you must ask for support and help to carry it back to the home...
There is also a rider who refuses to get off the car, often calls the police for help, etc.
Sometimes the embarrassment caused by the external environment really makes me feel ashamed.
But if you ask me what I think today?

I can tell everyone that I have never regretted my experience over the years.
On this road to rehabilitation, many professionals have joined me and extended a helping hand to support me.
My life is from the birth of Jian Ji, I began to grow up, learn, and have a lot of contact, and through my son's illness, I have given me the opportunity to reverse this abundant life.
In the course of life, although it is difficult and painful to walk, I have learned more than I have lost. I know how to face hardships, be tenacious and independent, and actively adopt a positive attitude to accept facts, cherish everything in front of me, and also Know how to use their own experience, share and exchange with parents who have stepped on their own roads, and answer their own experience to the problems they face with anxiety. Give them spiritual support so that they can spend peace of mind with their children.
Although my son is a mentally handicapped person, he showed me that the simpler people are, the happier they are. What they hold in their hearts is innocence, kindness, directness, and simplicity. I cherish the feeling of being in contact with my son even more.
Getting along with him is indeed a kind of enjoyment and a gift.
Life perception
Parents will have an unquenchable fire of love, always shining (to give the best) to their children, working silently, never mind the price, reward, no regrets, this is the bounden duty.