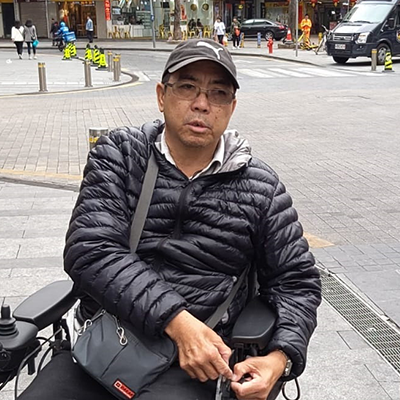 Mai Sir
Can speak or share
Reference number : #69
I was amputated on my left leg due to an industrial accident. At that time, I was very disappointed
Do voluntary work, assist fellow travelers and contribute to society
This is a shipping company who has been in shipping for more than 30 years. The warehouse manager and dispatcher caused an amputated left leg due to an industrial accident. At that time, he was very disappointed after the amputated limb. He repeatedly sought to end his life and avoid becoming a burden to his family. Fortunately at that time My sons and daughters and my wife will never leave me, and they will accompany me through the troughs of my life, until I feel calm and regain the strength to survive.
During my recovery, I experienced another setback. The hospital wrote my report as Diabetes Foot. When I found out, I was thundered in a blue sky, as if I had fallen from the sky, and I had no way to ask for help at the time. I didn't know. After I counted it, my son ran around for me, first looking for a notary office for verification, and then seeking verification by an orthopedic doctor. It took three years for me to have a few eyebrows, and I could only get the compensation he deserved until the end. To
However, the hospital insisted on refusing to change the report to (cut limbs due to work-related injuries) and only write (cut limbs), which made it very difficult for me to find a job, but then I met a group of wheelchair friends who introduced me to join a group and do voluntary work. , To help fellow travellers and contribute to society until now, I feel very meaningful and happy
Life perception
Life is inevitably difficult. As long as people can accompany and care for each other, they can walk through the troughs of life together and reach a better future.