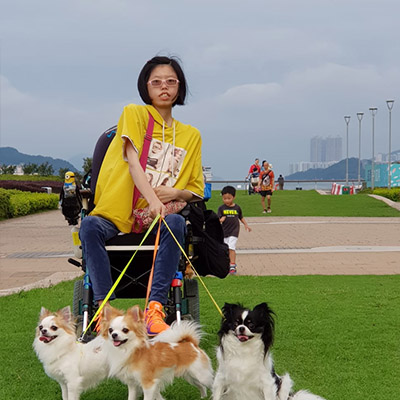 Samantha
Can speak or share
Reference number : #67
Since I was 3 years old, I felt that the ear boy could not hear the sound. I always rely on watching
What I want most now is time. I hope I can cherish the time I spend with my family, and go on a comfortable and leisurely trip with my family when my health permits.
When I was 3 years old, I felt that the ear boy could not hear the sound. Even if someone called me, I could hear it. Then when my mother knew about it, she immediately took me to the ear, nose and throat department or specialist, the doctor said The nerve line of my ear was pressed to the left, and I was referred to a hearing aid center for a hearing evaluation. Finally, my ear was diagnosed as deep to severe. The audiologist chose suitable earphones and made an eardrum for me. Until now, wearing headphones is equivalent to wearing glasses, but the listening aspect is clearer than before, but I have been relying on watching others to read their lips to understand what others mean.
Before anything happened to my body, I had been studying in ordinary elementary school to primary six and secondary school to secondary three. Since I didn't develop illness at the time of secondary one, I already started playing track and field team. I went to competitions and kept training on behalf of me. I love sports, and I suddenly fell from a high place to the bottom of the valley. Because I went to Secondary Two, my body suddenly fell involuntarily, and fell when I walked, and then my body continued to lose weight and my hands and feet were shaken. After that, I kept looking at the specialty. Or to many hospitals, clinicians and professors have diagnosed that I am suffering from muscular dystrophy-malnutrition.
During this period, my mood was shocked. Apart from going back to school, I didn't dare to go out for a few years. I didn't dare to sit in a wheelchair. I didn't want to meet people. I was a housemaid at home and cut off communication with the outside world. At this time, I was only 13 years old. Faced with all the difficulties, I have thought about suicide several times, but in the end I received explanations and guidance from my family and friends, and only then began to reduce my strong feelings about suicide.
Now I go to school to give some life lectures in my spare time to let students understand that life is only take1 but not take2, bring out some positive information and energy, and help related self-help organizations of the same kind to be behind-the-scenes volunteers. In my free time, I will play boccia and On the contrary, I found my life goal and fulfilled my life.
Life perception
Fall down there, stand up there again and face it again, as long as you are optimistic and hold on to hope, it will be a rainbow after the rain.