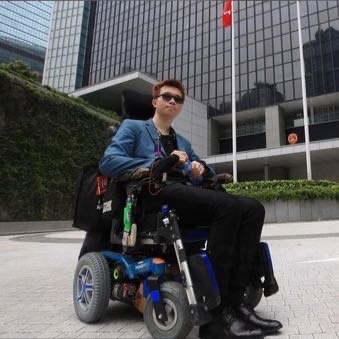 Hunter
Can speak or share
Reference number : #55
Cerebellar atrophy, wheelchair users, young people
Buy a good-quality sports wheelchair, and continue to walk the extremely limited track and field and those who have difficulty or low points on the road, and appreciate the beauty of life with everyone.
I was originally a young man who loves sports, but on one birthday one year, the doctor confirmed that I was suffering from hereditary rare cerebellar atrophy. At that moment, I suddenly felt that I had nothing. After checking the disease online, I told many people that it was incurable. There will not be a day of recovery. Your body will only get worse and worse. It will be tortured until the end of your life. This disease is the ability to lose balance, so it is also called dyskinesia. Although I don't want to stay at home, I often want to go out, but because I don't want to face other people's eyes, gossiping, or contact other people, I stay at home and do nothing.
Unforgettable, the most indulgence is exercise. It also made me determined to get out of the house and end my years as an otaku. After overcoming the fear of other people's eyes and gossip, I decided to participate in the Paralympic Interest Class. A wheelchair for basketball. Because it was my first contact with a sports wheelchair, I had to learn how to push well. After that, I kept doing it. Because I was also interested in wheelchair track and field, I decided to try wheelchair track and field and participate in the Standard Chartered Marathon. In fact, I'm most afraid of facing the bizarre vision of others in the wheelchair race. Although I mind it, I slowly accepted it. I asked someone to buy a sports wheelchair worth more than three thousand yuan in the Mainland, but it took less than half a year. There are many damages, so I have always hoped that there is a sports wheelchair that is not easy to break and can participate in competitions, so that I can continue my limited track and sports road.
Because my illness is a downward slope, but I only walked a quarter of a road. Although I don't know the situation for a year, the most important thing is to grasp the time and accomplish more meaningful things with my limited life. Cherish every minute and every second. , Do more of what you want to do!
Life perception
Life is impermanent, cherish every second, as long as you keep working hard, you can complete more impossible tasks in the eyes of others!