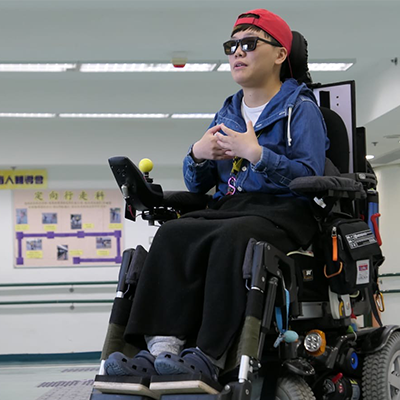 Hester
Can speak or share
Reference number : #72
A healthy body gradually degenerates for no reason, although the cause of the disease has not been f
I hope that there will be no regrets and no regrets for the rest of my life, so I go to the world and do everything to complete my wish list.
Jia Min is a physically handicapped person with visual and hearing impairment. He started to suffer from illness in 2015, but a healthy body gradually deteriorated for no reason. Although he went to seek medical treatment, no cause was found.
Before the onset of the illness, she worked in a special school, and because of this, she enrolled in special education instructor curriculum development with ambitions. Unfortunately, she was ill and forced to give up the job she loved. The things she owned were suddenly taken away, leaving only despair... .. This was designated by the society as an "undiagnosed rare disease", which caused her to gradually lose her vision, limbs, chewing and other physical functions, and she needed to rely on the assistance of others for a long time. What is more terrifying about this disease is the unknown "result". I can only wash my face with tears when facing the disease, and I feel exhausted physically and mentally. The reality has forced her to face the problems of work, studies, finances, housing, and rehabilitation supplies.
"Giving up" and "persisting in" are just a matter of thought. Although life is full of thorns, Jiamin sometimes thinks: "If the cause of the disease can be found one day, maybe I can still know what is going on." She is grateful to breathe now. The system and lung function can still function healthily. There is a team of medical care teams who do their best for her, the mutual assistance and support of Aixi, her family and friends, and a group of fellow travelers, which allows her to stick to this rugged life path.

"Unknown disease" makes Jiamin cherish every minute and every second, hoping that there will be no regrets and no regrets for the rest of his life, so he went to the world and did everything, and participated in "wheelchair fencing", "grass/hard ground bocce", and " "Wheelchair martial arts", "paragliding parachute"... I was fortunate enough to get encouragement and assistance, allowing her to dive into weightless water, enjoy leaving the shackles of the wheelchair, kiss the underwater world, and feel the moment of freedom.
The most comforting thing is that Jiamin shared her painful experience of resistance to primary and secondary schools and special students personally. With the belief that "life affects life", she encourages everyone to cherish life and think about the value of life. Jiamin once said: "Everyone must have a heart of gratitude, because tomorrow and the future are unpredictable, so live in the present! While you still have power, accomplish more meaningful things and make your life more colorful. color".
Life perception
Always be grateful, the future is unpredictable, it is better to live in the present and make life more colorful.