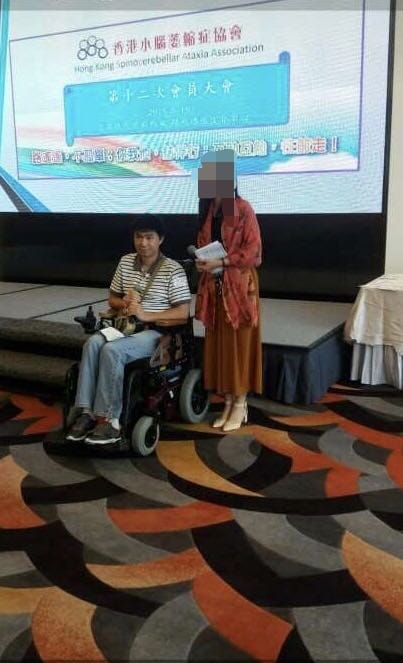 Feng Bin
Reference number : #58
Diagnosed with incurable disease-cerebellar atrophy
Become a doctor, people will call me "Doctor Fung"
In fact, I used to be a computer engineer. After I got my degree at a university in the United States, I planned to further study and become a doctor. I have been influenced by my parents since I was a child (both of my parents are in the medical profession), so I also want to be in the medical profession.
At that time, shortly after graduating from university, I found a job in Boston on the East Coast of the United States. One day when I was playing basketball with a colleague, I fell to the ground every time I jumped up to grab the ball with my opponent and landed. I was only 27 years old that year, and then I went to see a doctor, and it was only five years later that I was diagnosed with cerebellar atrophy. When a 32-year-old person in Japan knew that he was suffering from an incurable disease, his mood was really indescribable, and my further study plan was completely broken. It's really not as good as heaven!
But at that time, I still thought that I was not sick, and helped a ghost colleague cut trees and build a roof at his house, doing these dangerous things. Until 2011, due to frequent falls at home, for personal safety, I returned to Hong Kong to live with my family. So, isn't my dream of becoming a doctor obliterated? At that time, I thought to myself: As long as I have worked hard, no matter what the reason is that I cannot succeed in the end, I can still be forgiven!
In addition to adapting to the living environment during my stay in Hong Kong, I have to watch my mother suffering from cerebellar atrophy. My mother passed away in November 2015, and then I started the next phase of my life: I joined the Hong Kong Cerebellar Atrophy Association and got in a wheelchair.
Before that, I met Ms. Cao Qiwen. She is a friend who treats herself sincerely. With her encouragement, I joined the information group of the association, mainly responsible for the content of each issue of the conference with other information group members. Later, he was appointed as the secretary of the deacon committee, and the next deacon committee was appointed as the vice chairman of internal affairs. I gradually love the work of the association, and hope that in the future I can encourage each other and do something with the members of the Hong Kong Cerebellar Atrophy Association!
Life perception
Man proposes, God disposes