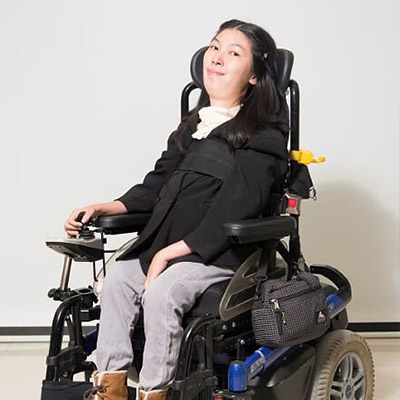 Elaine
Can speak or share
Reference number : #74
Suffering from spinal muscular atrophy (SMA), I rely on family members for care of everything regard
Live the infinity of life, and use your own life experience to inspire others
I have suffered from spinal muscular atrophy (SMA) since I was a child. This disease affects muscles, so I can't do anything. Therefore, I have always depended on my family for care of everything, big or small, but this disease does not affect speech and intelligence. Maybe The road in a wheelchair is much harder than other people. Every inch of my body's muscles will gradually degenerate, but this does not prevent me from enjoying life. I can still move my fingers and click the mouse. In the world of the Internet, Still can absorb more knowledge.
Although there are many difficulties when studying, such as writing slowly and opening books, they are still overcome with the support of family members and the help of special schools. After completing the exams of Form 5 and Form 7, enter Graduated from the Philosophy Department of Lingnan University and successfully graduated.
Now, I have graduated for some years, and I live with my servant sister. In those years, there were also many life blows. Faced with unemployment and a life without a direction, I was once lost and became an otaku without leaving home. But through the life of a volunteer, I found my goal again. I have returned to the meaning of life and affirmed my own value. If I have time now, I will help others with tuition or volunteer.
The rest of my free time will cultivate different interests. Even though my body is limited, my mouth, fingers and head are free. It is because of freedom that I can live out the infinite nature of life.
Life perception
Even though my body has limitations, my mouth, fingers, and head are free, and it is because of freedom that I can live out the infinity of life.